I want to preach for a few minutes about Containers in Firefox. This is not like Docker containers, a Snap Package (using cgroups), or Shipping Containers, but instead a way of describing how each tab protects you from tracking.
Here's a quick lesson in how the web works. Each website you visit, when you get the HTML page, it might *also* ask you store a small text file, a "Cookie" that then gets handed *back* to that site the next time you visit. It's an easy way of saying "I've been here before, you know me already".
This doesn't just happen when you visit a web page (unless the web page is really *really* simple), it also happens for each resource on that page. If the page also asks for an image (say, the logo of a social media network), a script (say, a banner bar from an advertising network) or a font (yep, web fonts are also a thing!), each one of those also gets to say "here's a Cookie, keep it for the next time you come back".
For a few years, there have been ad-blockers (my favourite two are "uBlock Origin" and "Privacy Badger"), which can stop the content from ever being loaded… but it's an arms race. The ad-blockers stop content from being loaded (mostly it's just to stop the adverts, but the other stuff is a benefit that they've kept on doing), then the tracking firms do something else to make it so their content is loaded, and so-on. Firefox also has "Private Browsing Mode", which can stop "third party cookies" (the ones from each of the additional sources on the page) from being shared… but I always think that Private Browsing mode looks shady.
In the last couple of years, Firefox started an experiment called "Firefox Multi-Account Containers" (or just "Containers" for short). This is designed to create a whole new "state" for each browser tab, that's shared between those containers.
You can mark particular websites as being part of a particular container, so Twitter, Facebook and GMail all end up in my "Personal" container, whereas the sites I need for work are in the "Work" container.
For a while I was using them to support family members ("I just need you to log into your GMail account for me to have a poke around… let me create a new container for your account", or "Let's have a look at why you're getting those Facebook posts. Can you log in in this container here?").
Then I needed it to separate out a couple of Twitter accounts I'm responsible for (when I use the "Switch Containers" extension to jump between them)… Then I found a new extension which upgraded how I use them "Temporary Containers". With a couple of tweaks (see below), this makes every new tab into it's own container… so it's a bit like Private Browsing Mode, but one which dynamically turns itself into a "non-private mode" if you hit the right URL.
So, this is my work-flow – it might not work for you, but equally, it might! When I open a new tab, or visit a website that isn't already categorised as a "Personal", "Work" (or so-on) container, I get taken to a new "Temporary" container.
I then ask myself if this is something I need to log into with one of my existing containers (e.g. Google, Facebook, Twitter, Github, Azure, AWS etc), and if so, I'll "Switch Containers" to that container (e.g. Personal).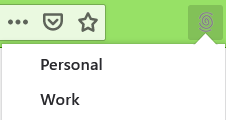 If I think that I always want to open it here then I'll click on the "Containers" button in the bar, and select "Always open in 'Personal'".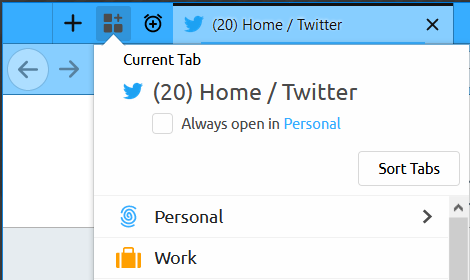 If I've categorised something that I need to swap to something else (e.g. Twitter for another account, or a family member's GMail account), then I explicitly "Switch Containers" or open a tab in that container first, and then go to the website.
If I need a new container for this window, I use the + symbol next to the "Edit Containers" button in the containers button in the window bar.

I also use the "Open Bookmark in Container" extension, for when I'm using bookmarks, as, by default, these can't be opened in a container. I also use the "Containers Theme" extension, as can be seen by the colour changes in the above screenshots.
While this is fully available for Firefox on Desktop, it's not yet available on Firefox for Android or Firefox for iOS, and there's no word on whether it will come at all…
Featured image is "pulpit and bible" by "Joel Kramer" on Flickr and is released under a CC-BY license.