Outside of work, I attended my first technical event since the 2020 lockdown. A Barcamp is a community run conference where the attendees propose the talks they want to present. In past years, I have attended with an intention to speak, and in some cases present several talks.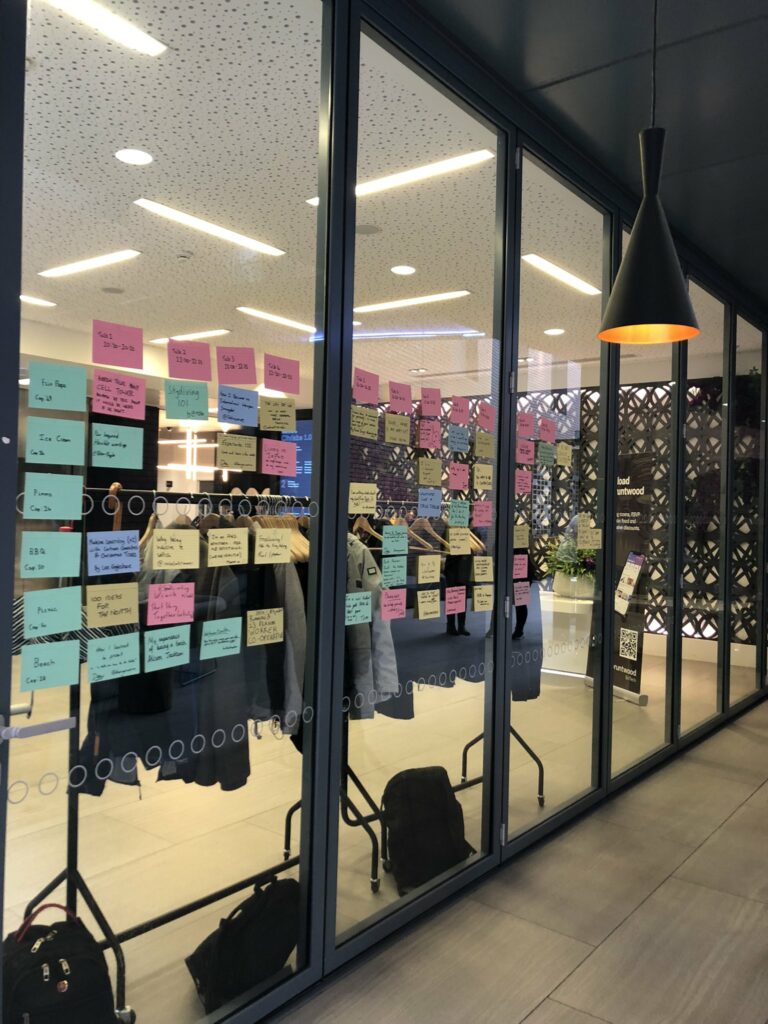 The first talk I attended was a talk by Patrick Hurley who was asking people to propose ideas to that would benefit people in the north of England. These will be written up into a book and used as inspiration for projects big and small. Well worth a look! 100ideasnorth.org
I missed the next slot, as I was making my way around groups of people I'd not spoken to for a while, but then my next talk of interest was "I'm an AWS Engineer… Ask me Anything (we're hiring)" by Martin. I didn't know anyone else from AWS was going to be there, so I went, if only to introduce myself and say hi… Well, one thing lead to another, and then I found myself joining Martin answering questions from my perspective in a different part of the organisation. I loved this session, and I'm really glad to have caught up with Martin, if only because he was such a lovely man and so enthusiastic about everything he was talking about!
After that, I went to the talk about Living in Japan by Fran. This was a quick ad-hoc talk, but totally adorable because it was just completely heartfelt and had loads of questions that were answered with fab anecdotes about life at a ladies-only university outside Tokyo… the questions were really good too!
Over lunch and slot 5, I put together a talk about my boardgame collection, and agreed to co-host a talk about working at AWS with Martin again.
I also found myself in a small talk, hosted by Harper, the 8 year old daughter of one of the attendees, who was very keen to present her first talk. It was a beautiful and well delivered talk about the elements of a pen, her favourite pen and what each element is for. She also fielded questions from the audience with a lot of confidence and spoke with great authority. She was fab, and I made a point of letting everyone I saw know about her talk!
I went to a talk in Slot 6 called "Dude, where's my meetup" – a slightly confused talk which seemed to be asking "what happened to all the groups that met up in Manchester", while also not being clear whether it was asking "and who's going to run them again now we're all meeting back up" or "why haven't they restarted" or "what is replacing them" or even "why aren't the groups which have restarted making more noise about themselves to make them found"… I plugged the North West UK Tech Community and encouraged groups to register themselves on there, and individuals to help clean out older groups that have closed.
I gave my talk on the Board Game spreadsheet I have created, and got a great couple of ideas on categorising the games we have, and whether expansions should be games in their own right, or not. Several people took links away, and I picked up this great alternative version that I could be reusing!
Next up was the conversation with the audience about working at AWS. Lots of really good questions again, and Martin and I developed quite a good raport. I think we'll be trying to do things like these talks again!
After that session, I spoke to one of the audience members from the AWS session about being recruited by AWS, and then to another person about how they were using AWS. I really enjoyed being part of a conversation about how other people see AWS – I know it's a lot of my day job, but it was just a nice reassurance that it's not just something I can do inside my working hours!
Then we had the wrap-up, and there were lots of claps and cheers for the organising team and for anyone who spoke at the event. Great work everyone!
Afterwards, I went to the pub with some people who used to go to Geekup (and it was glorious!) and then made my way home.
All in all, a great day, and I'm looking forward to the next one!