Today saw a new game added to our collection – Kingdomino by Blue Orange.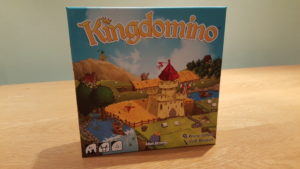 In Kingdomino, you play the ruler of a single square of land, and each turn you compete with the other players to select which piece you get to play into your kingdom next. Each piece has a value on it's back ranging between 1 and 48, with the lower rated pieces having less chance of increasing the value of your kingdom, and the higher value pieces (complete with crowns) helping each patch score more points.
The game is pretty quick to pick up (match at least one side of your tile with another piece you've played already, maximum board size of a 5×5 grid, the crowns offer a way to score points, multiplied by the size of the patch of same-land-types) and easy enough to play that my 3-year-old managed it. Two determined adults (Jules and I) got through two games in 30 minutes. The kids took a little longer (but not by much).
Make sure you have something to tot up the scores at the end though!