Last year, I was very fortunate be selected as a Fujitsu Distinguished Engineer (FDE), and earlier this year I was advised that my membership of that group was renewed (this is not a forgone conclusion – it's something you need to achieve each year!)
Some FDEs have occasional local meet-ups, but our whole group's "big do", when we induct new members into the group, the "FDE Conference" was held this year (#FDEConf2019 on Social Media) at WECC, Berlin.
The FDE Conference spans two days (plus travelling) and this year was no exception. I travelled from Manchester with Associate FDE, Lucy McGrother, and stayed at the Ellington Hotel in Berlin. On arrival, several of the FDEs who were at the Ellington created a chat group on Linked In and organised going out for dinner at the Bavarian Berlin restaurant (which was really tasty!)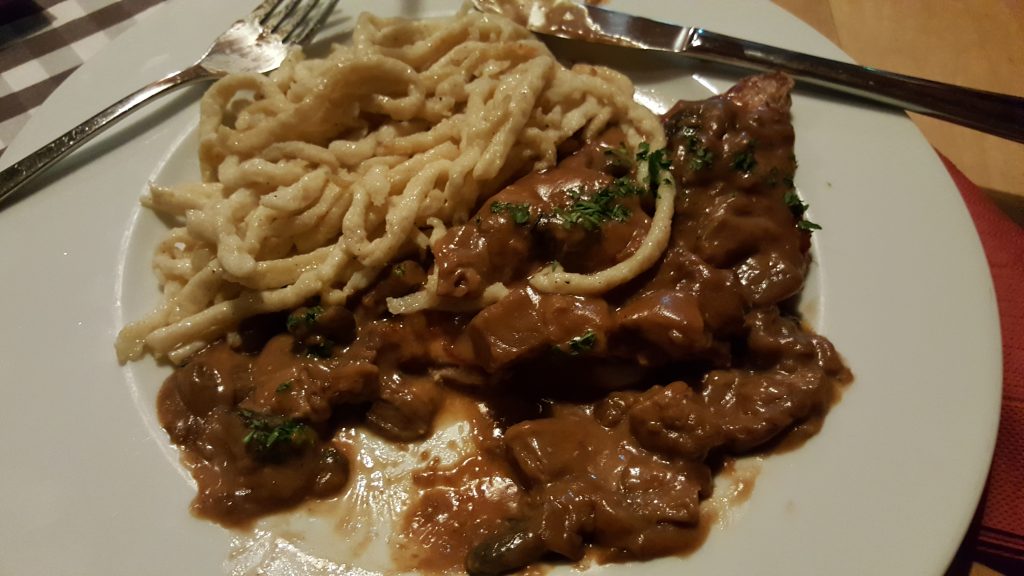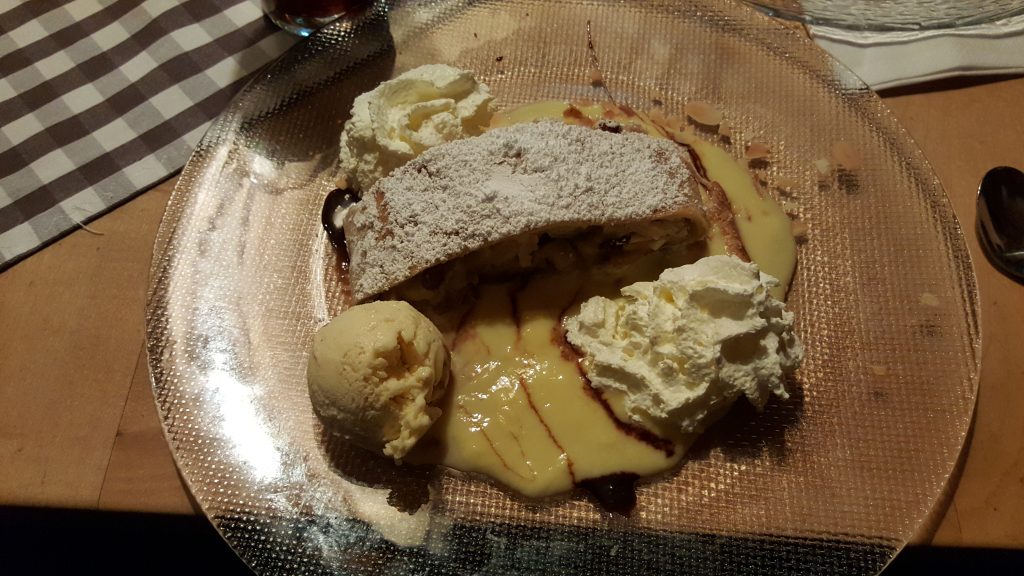 The following day, the first "real" day of the event, a few of us caught an Uber to the conference (I've never used Uber before, but was very impressed with the UX of it!) where we discovered that a "Uber X" (the bigger ones) for 6 people can't fix 6 people into! I had my knees around my ears, which was fun!
I was speaking at the event on the first day, so I made my way to my room, only to discover that not only was the venue "HDMI only" (damn you DisplayPort-only laptop!) but also that an update overnight on my blog (to update syntax highlighting I don't use any more) had taken out the presentation software I was using. Cue running around looking for an DisplayPort/HDMI Adaptor, and then trying to figure out what had actually broken on the site! Oh well – soon sorted!
Welcome speech delivered by the ever enthusiastic Joseph Reger, and then we were off to the "Breakout Sessions"!
The first talk I attended was by Caragh O'Carroll, on Data Maturity. I'd had a bit of a preview of the talk a week or so before the talk was actually given (a dry-run, so to speak), and it was great to hear that I'd literally had 10% of what would actually be in the talk. Some of my suggestions had been incorporated, and the whole room was up and moving around for one piece of the story half way through. It was really energising!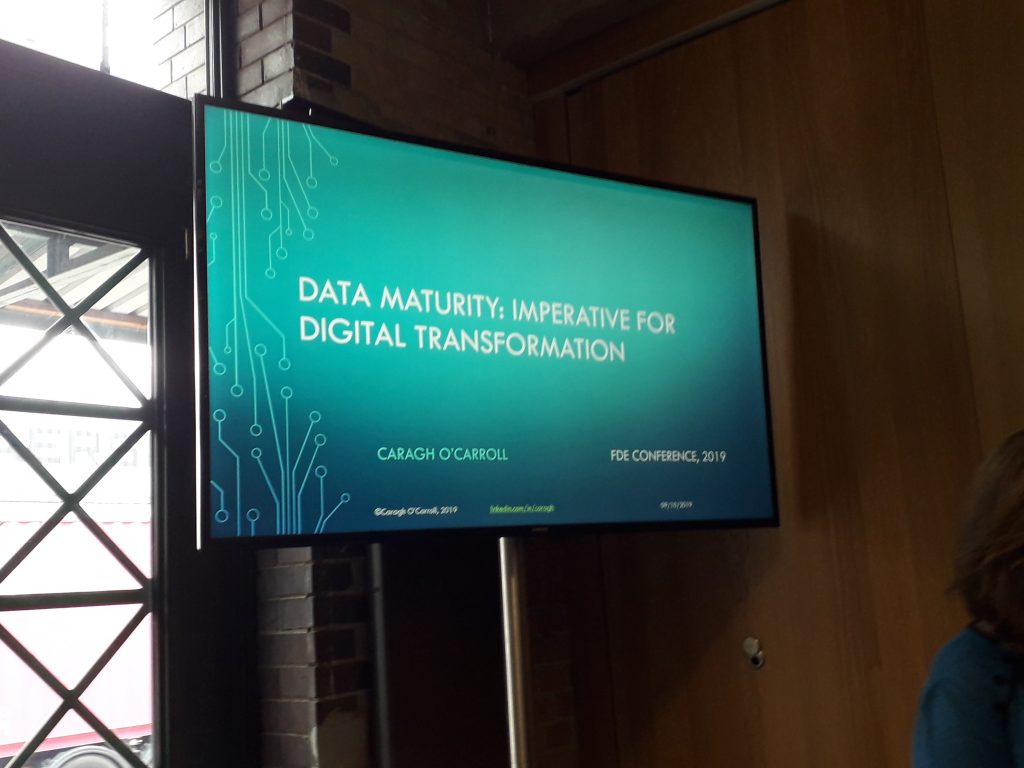 After that, I was on stage. Because Joseph had run over slightly, the speaker in the slot before me had timed his talk to the minute and so overran into the "moving around" block. I was slightly nervous as this meant my timing could have gone out (but as it turned out, I nailed it to the minute!) I've written up some notes on my talk already elsewhere on this blog, so I won't go into too much detail, aside from to add that after I wrote that post, I was told that people were being turned away from the door, so that's a bit of an ego boost :)
I'd intended next to attend a talk on Microservices Architectures, but unfortunately the room was rammed (it wasn't even "standing room only" – they'd run out of room for people to stand!) Instead, I went away and spoke to some of the vendors. RedHat were there, dispensing Red Fedora hats to anyone who deposited a "contact card". Yep, I went for it!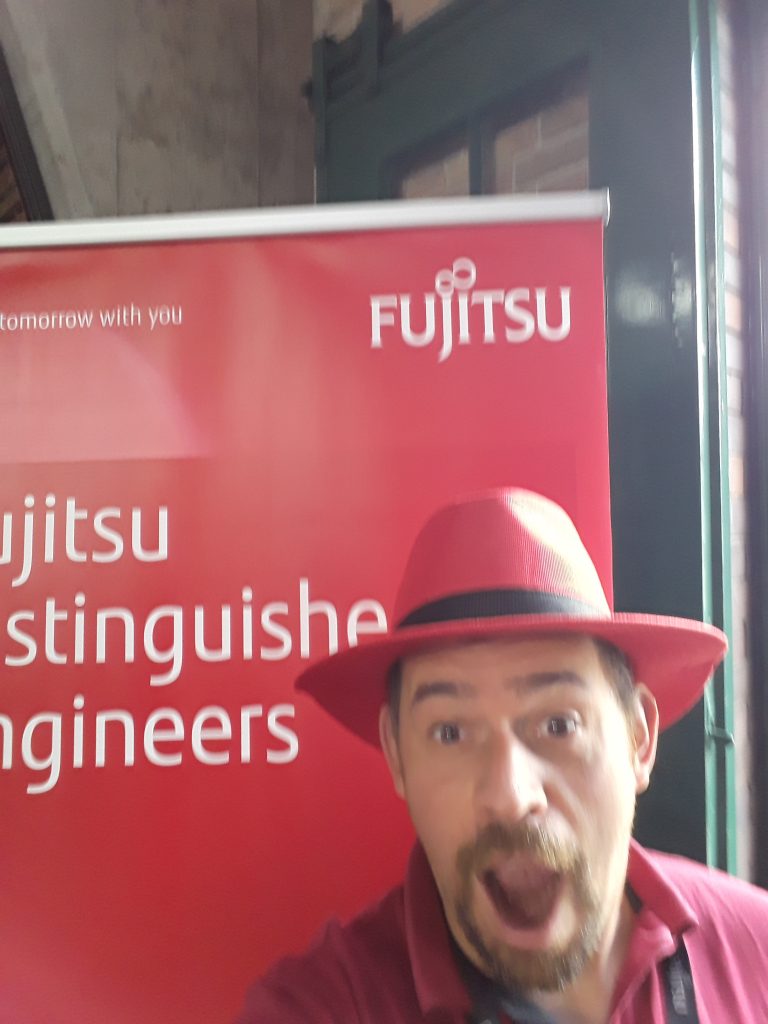 I also spoke to Pluralsight, a training vendor I'd previously sidelined in favour of another platform, but who appeared to have a much broader scope of content… so they convinced me to give it another try.
I spoke briefly to SUSE, but more-so because I wanted to find out how people I knew working for SUSE were doing than to find out about what SUSE were offering. I'm reasonably well switched on with SUSE as a project and a company so I didn't feel like I needed to get much from them. Also, sadly, none of the people who were there knew the people I was talking about, which wasn't a good start! :)
I also spent a couple of minutes talking to a partner I've had reasonably close dealings with, Symantec, and agreed to a conversation in the next couple of months. Again, it wasn't a long talk, as I knew the product set and context quite well.
The other sponsors had interesting content, but generally didn't cover areas that overlap with my work or my personal interests, so, while I interacted with them, I don't recall much of what was discussed.
The last break-out session of the day was Scott Pendlebury and Dave Markham's session on "Cyber Threat Intelligence and Dark Web Research" – a cumulative talk on the research they've done into various aspects of their jobs in the Advanced Threat Centre. This was a very in-depth talk, covering a large number of subjects in a very short space of time. Several people I spoke to after their talk were very interested in lots of little aspects of their talk… because it touched so many areas!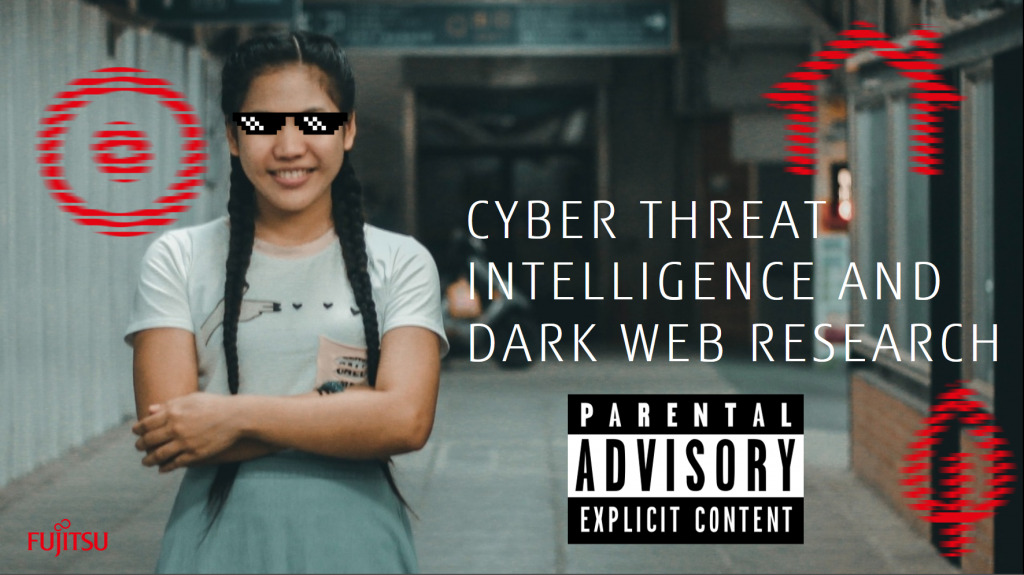 There was a closing speech for the day, and then the rooms were re-jigged for the evening games and food. In one room was a big-screen, phone controlled, multi-player "Pong" game (hosted by Piing) and a spin of "Cards Against Humanity" called "Cards Against Complexity" (hosted by Citrix). Both were fun, but what was much MORE fun was the game after Pong – a big-screen, phone controlled, multi-player buggy racing game. The first round, naturally, I won!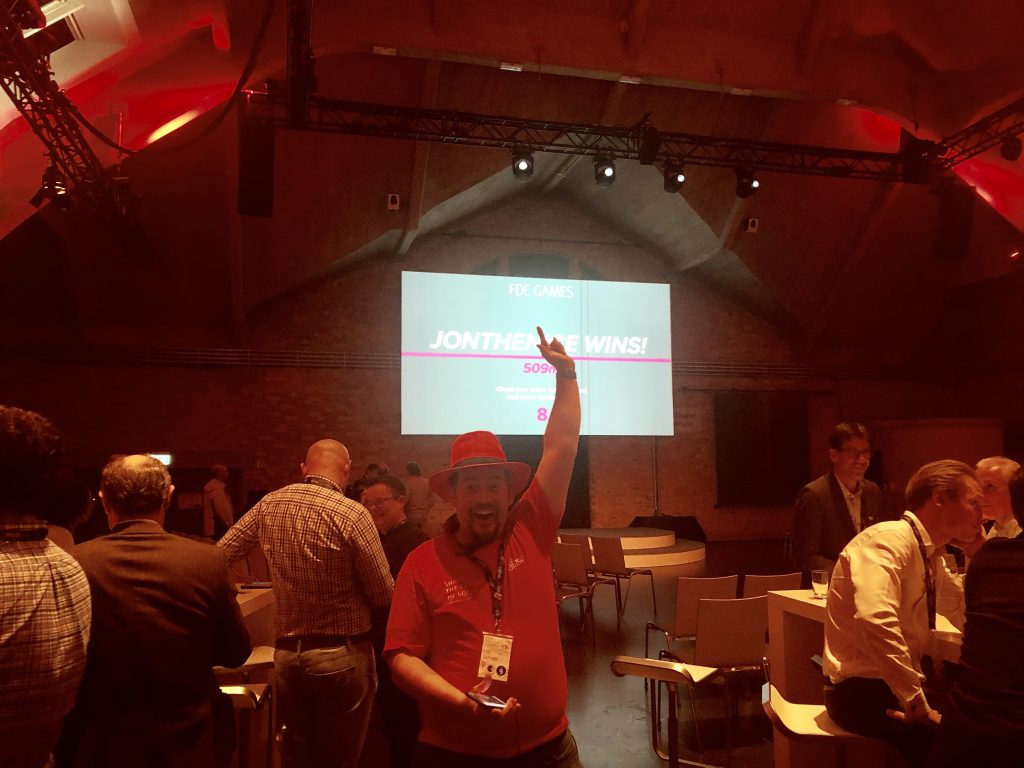 Following the games, I went back to the hotel with a couple of the other FDEs (discovering how not-Uber, non-Uber services are), and had a couple of drinks in the bar. Bed and awake for breakfast the following morning.
Day two was about the UN's 17 Sustainable Development Goals, and what ideas we, as a company, could come up with to help progress those goals.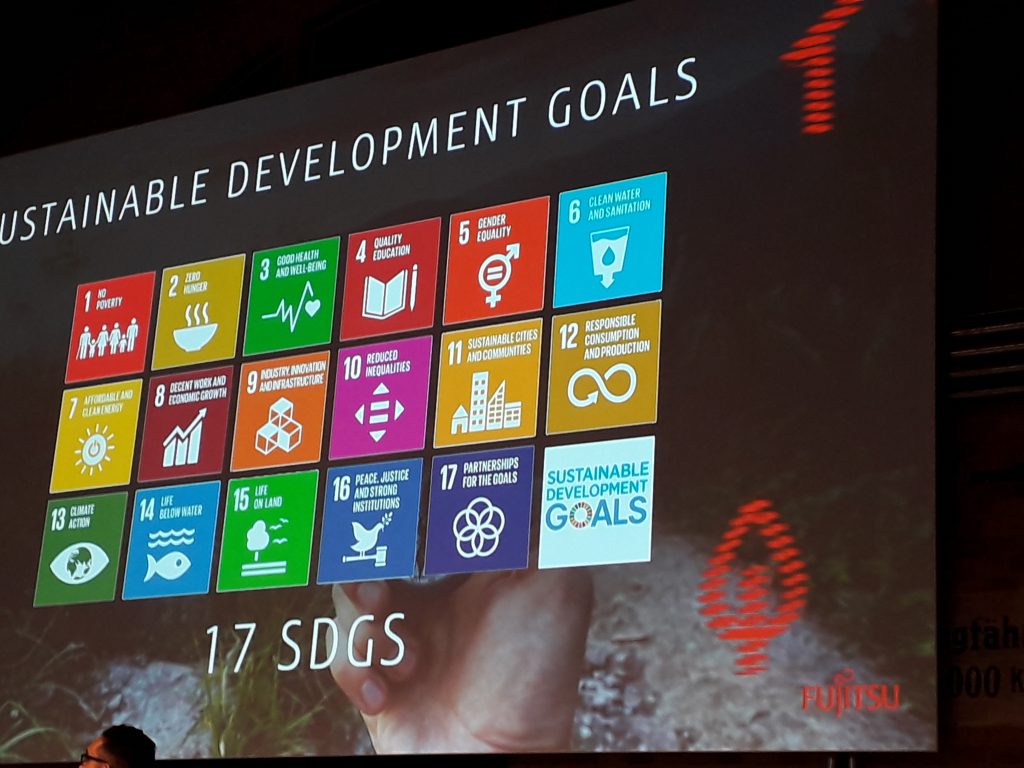 We had talks from three different individuals who are helping to steer the conversation. Neil Bennett, Dr. Leonardo Gheller Alves (link to his latest project) and Thomas Deloison. Our speakers, talking over individual radio channels to tuned headphones, told us about how we could impress them with our projects… and talking of the projects, there were three "target" cities – Berlin (naturally), Bangalore and Tokyo (also, naturally). Each city was prompted to look at three areas of interest – Homes & Communities, Transport and Environment. Each city/interest set was split into three groups (numbered 1-9), each of whom were to approach the subject and come up with a project to solve an issue in their chosen area.
The process, orchestrated by the co-creation conductor – Jo Box, took us on a journey, looking at the city and it's issues, pushing us into looking at how those issues impact a single member of that city and, then pulling us into how we might help that person improve their lives.
My team, Tokyo 9 (dealing with "Environment") considered the path of an elderly Japanese lady "Mikika" and thought about what issues she had. We explored the fact that she lived in a "Walk-up" apartment, and probably was concerned with the fates of all of her family (including her own brother, as well as their children and grandchildren). We expanded on that to work out what things in Mikika's environment would cause her issues, and how we might help to solve those issues… As it worked out, we ended up crossing from "Environment" into "Housing", as we imagined building a new town on a brownfield environment inside Tokyo, and how that town might be better engineered to support family lives for all stages of life, from rearing children near home, to supporting young adults in their quest for a career, and later to the care and support of elderly family members who might be living nearby.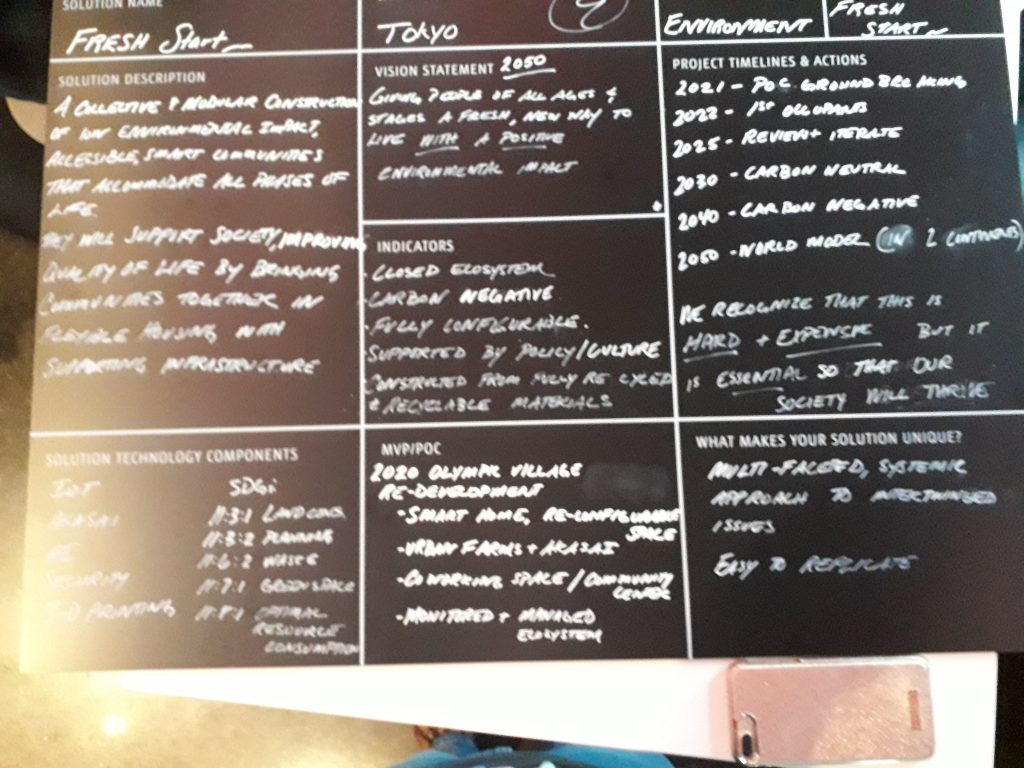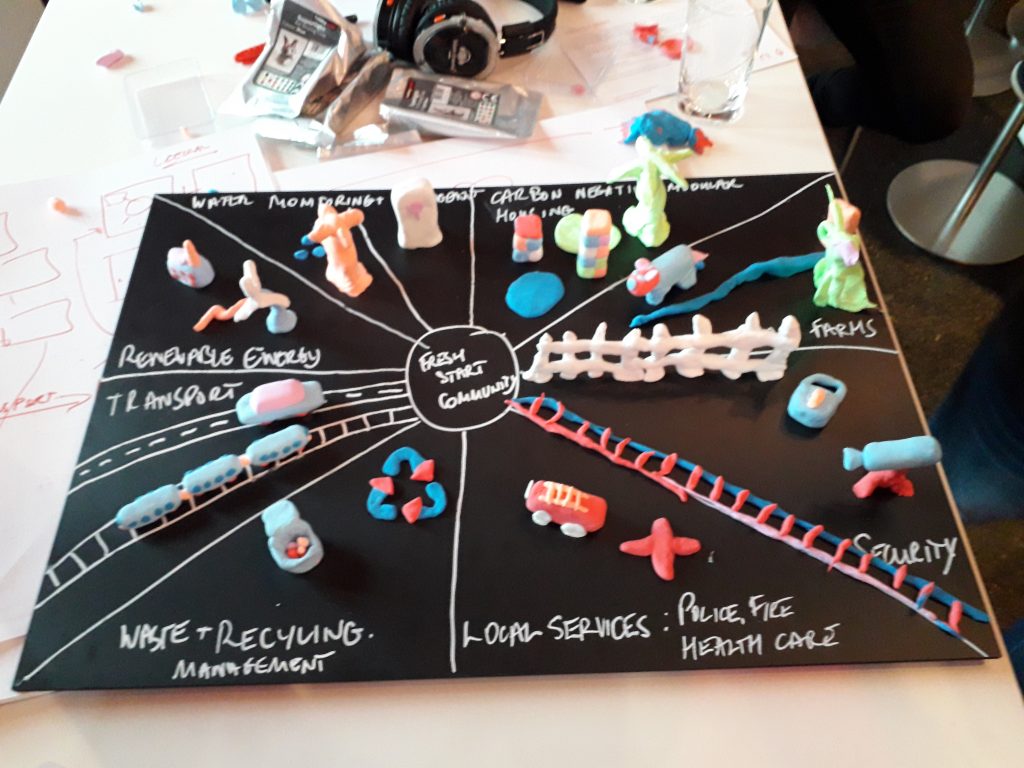 Sadly, we didn't win, but I loved being a part of the team. I have to give lots of respect to all my team members, but particularly to Liz Parnell, a recent member of the FDE community and Sean Barker. These were both our voices for the pitches to our fellow Tokyo teams, and also in our final pitch to the judges.
Following the pitches, we went off-site for a walk around (I managed to do some tourist-y shopping for the family and then chatted with some other FDEs at the "Other" hotel) before heading back for drinks and dinner.
During the dinner, I was approached by someone from the RedHat stand, who asked if they could borrow my hat. I was, by this point, the only person at the event still wearing my coveted red fedora. I finally let him borrow my hat, only to find it on the head of Dr. Joseph!
In the latter part of the dinner were speeches from members of the Management Team, essentially reminding us that we're amazing and need to keep being so great. I subsequently managed to talk to my local management representative – Tim White, with whom I got a great selfie!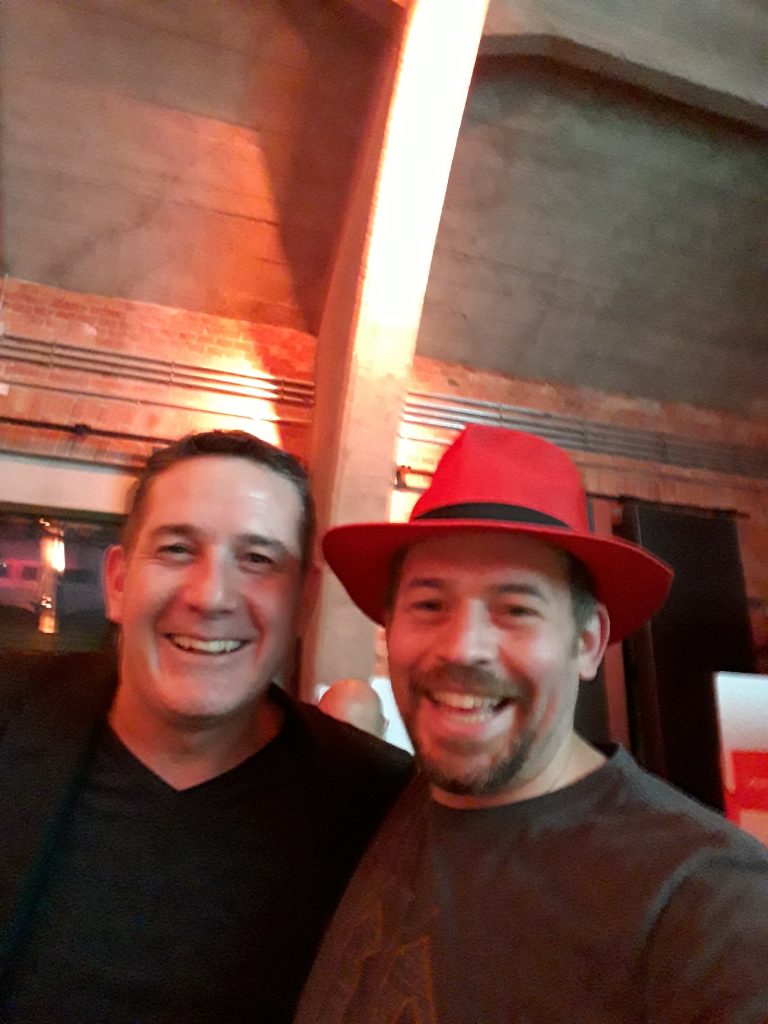 We also saw all the new FDEs and Associate FDEs being inducted in, and also those staff who were awarded for significant internal research papers.
And then, we all had a lot more drinks, and when the bar shut down, we returned to the bar at the hotel, and had some more.
A reasonable handful of us ended up on the same flight back to Manchester the following day, so it was nice to catch up with a few of the FDEs on the return.
I should say though, it took me a few days to recover! Hence, this post only arriving now… so, erm, perhaps that'll teach me for taking my own vodka to a venue that's only serving beer and wine? (#ThePerilsOfOnlyDrinkingSpirits)
Nah, didn't think so! 😁
If you work for Fujitsu, and want to know more about the FDE program, want to become an FDE or just want to know more about what I do for Fujitsu, please get in touch. I'm in the Address Book and I am frequently on our IM system. I'd be more than happy to talk with you!
If you don't work for Fujitsu, but would be interested, start by looking at the roles available in your region (e.g. via this page). Each region may have a different recruiting tool (that's big business for you!) but if you spot something and want to know whether it might be the right sort of role for you, you can contact me via one of the options up the top of my blog and I'd be glad to try to help you, if it's right for you!
Featured image is "Inspiring couple of days in Berlin attending #FDEConf2019" by Paul Clarke.