My history
Earlier this year LEGO released the Optimus Prime set, 10302, and I said to my friends at the time "£150… It's good, but is it that good? (Who am I kidding… Add to basket)" but, of course, I didn't.
Later in the year, I was fortunate enough to visit Billund in Denmark, the home of LEGO, and I got to see the glory of the Optimus Prime set in the … plastic? Anyway, because I was there with hand luggage only, I couldn't fit the box and set into the luggage, so I couldn't get it abroad, and assumed that was it – no more Optimus for me.
Until Christmas Day arrives, and my (amazing, beautiful, best person ever) wife hands me a box… As I pick it up from her, I say "That… sounds like Lego" but I still haven't put two-and-two together yet. I peel open the paper and my mouth drops. It's this set.
See, I'm of the era that watched all the cartoons, had all the comics, and (thanks to, in hindsight, my verygenerous parents) had a few of the toys… so this is a true throwback for me.
The build itself
Jules and I agreed that today would be the "build our Lego sets" day, so as I started my breakfast I cracked open the box.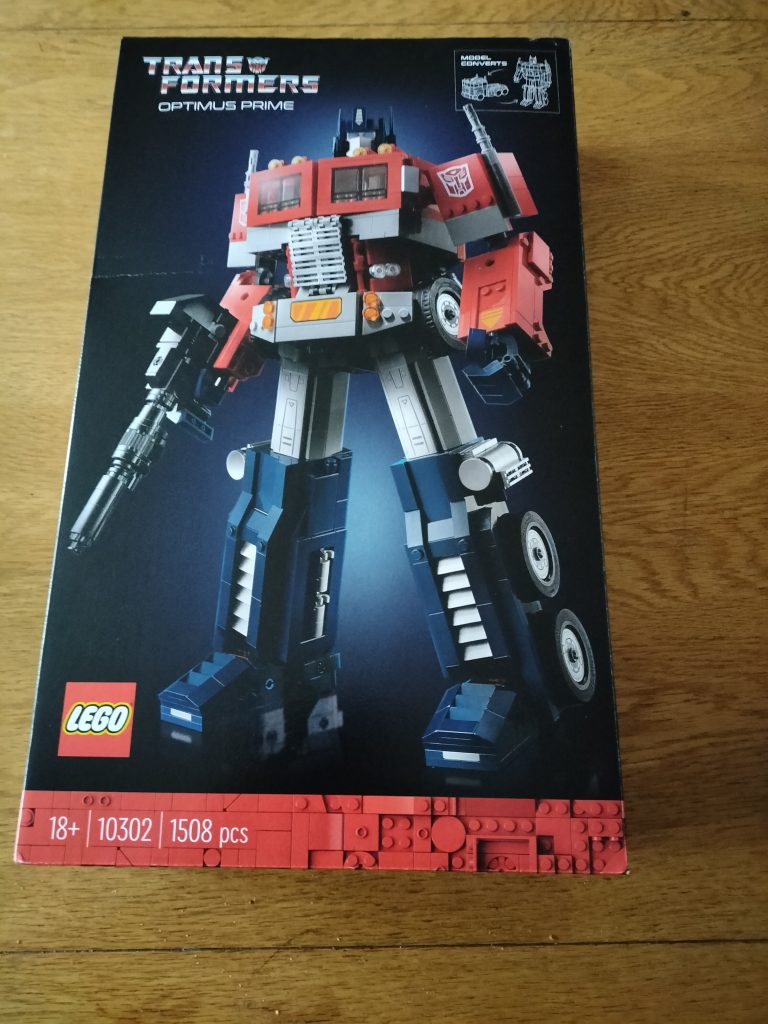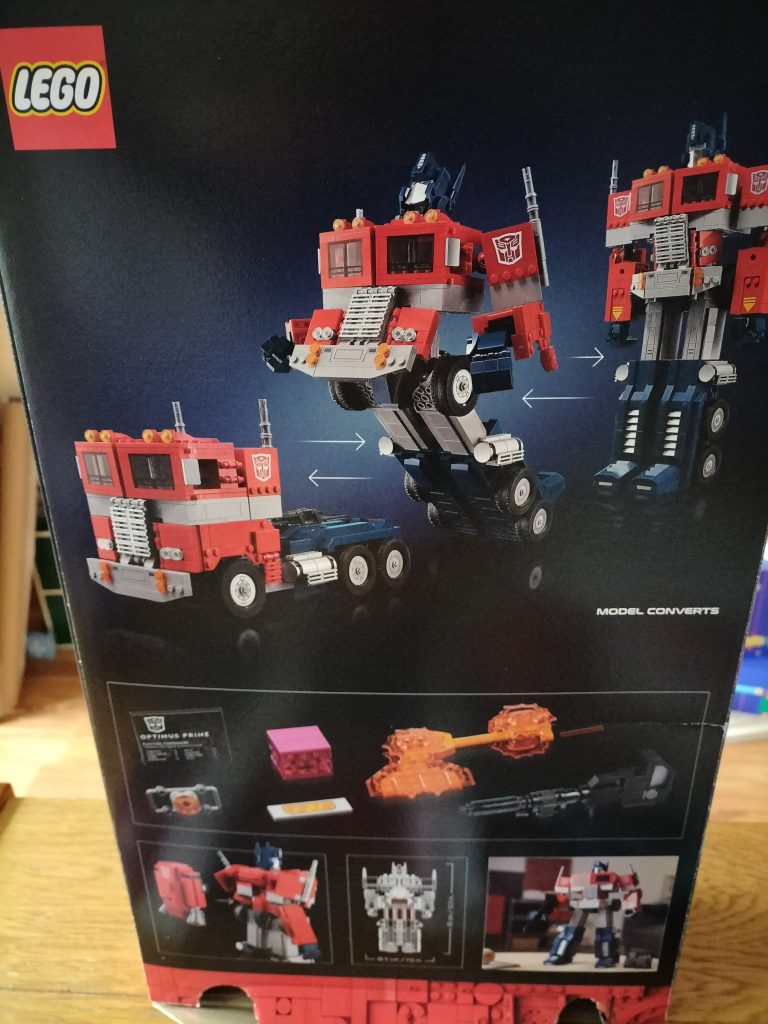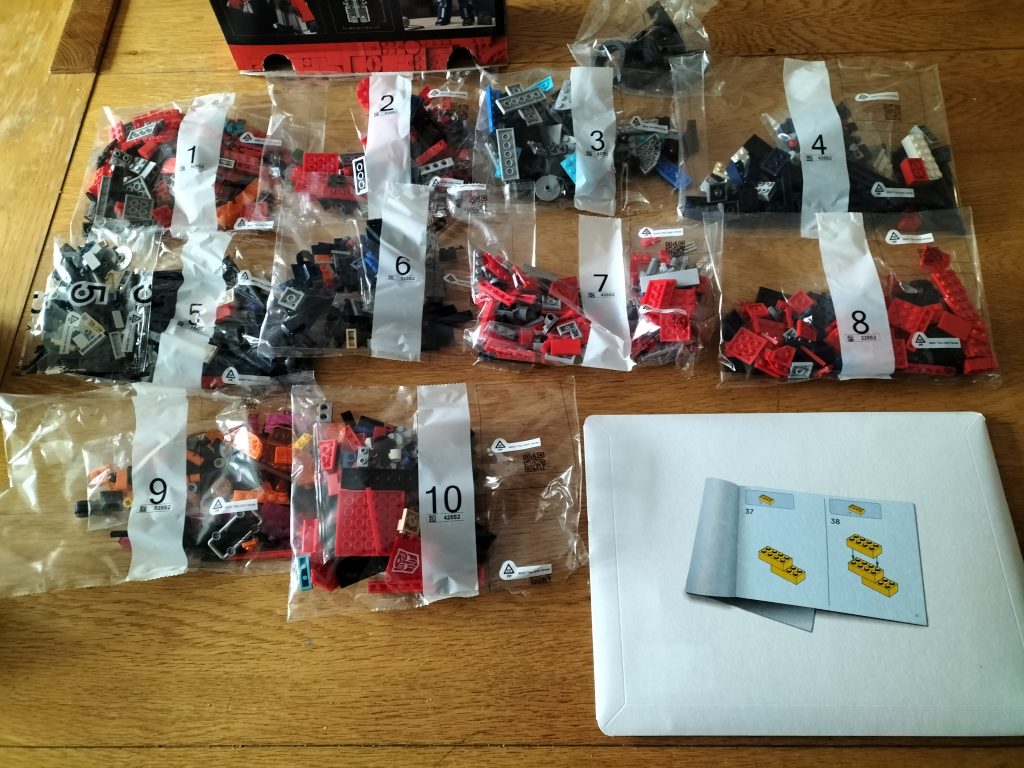 I set to work. Right from the outset, the classic windscreen was visible, and it's a perfect opening section for the set, and builds the anticipation for the final build.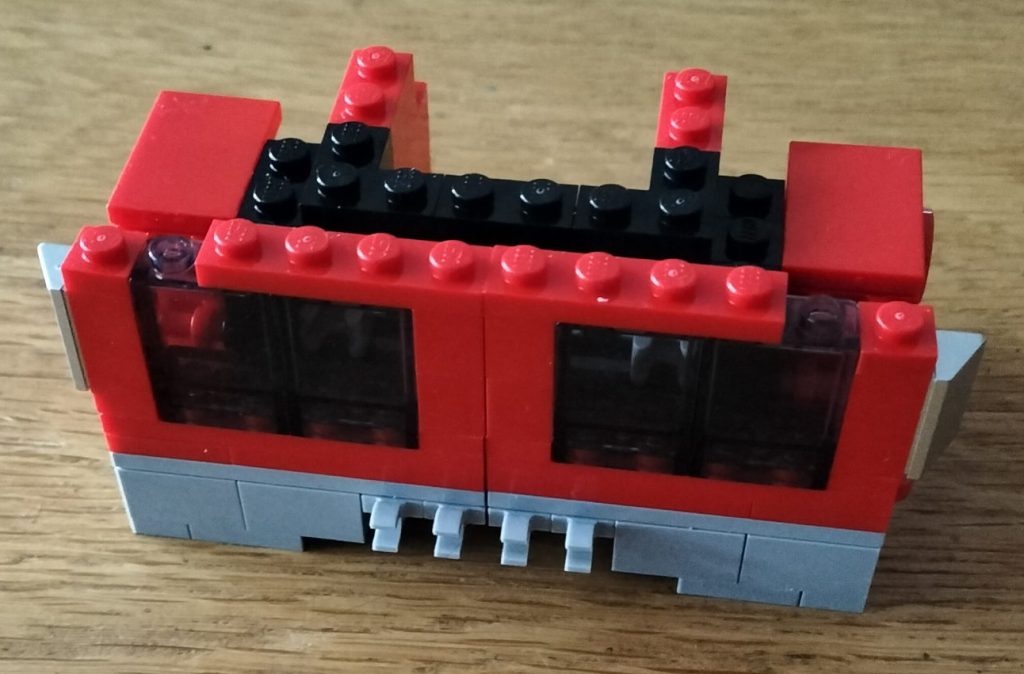 Several hours later (including a few rounds of Singstar and Buzz, lunch and dinner), Optimus Prime is complete.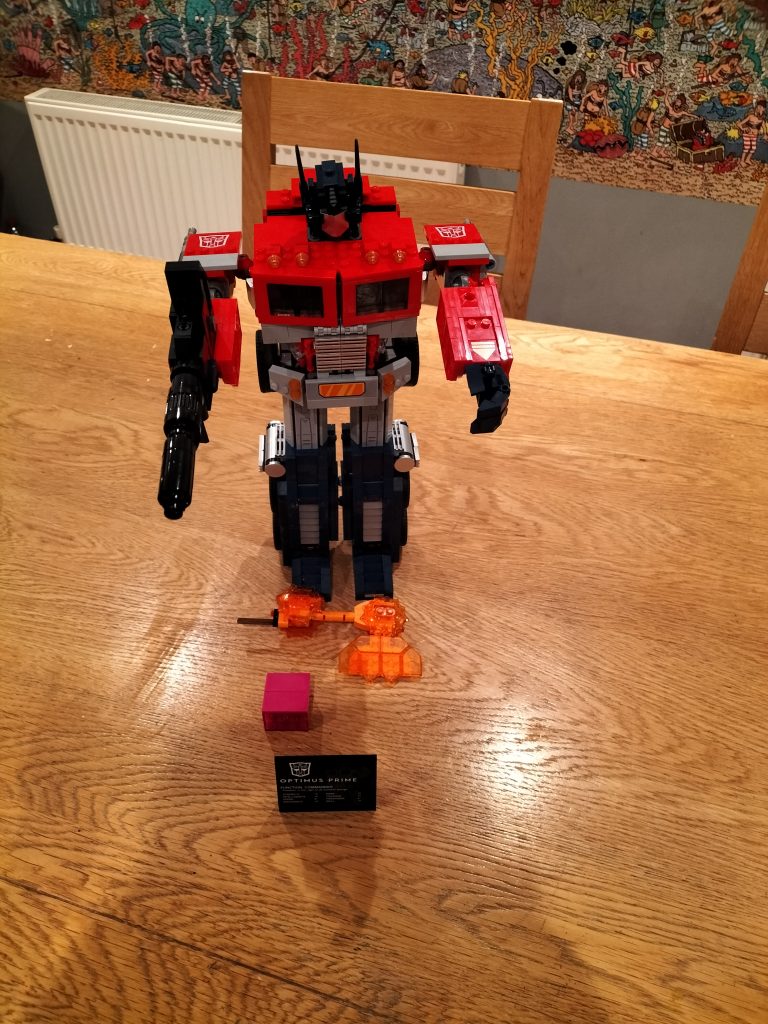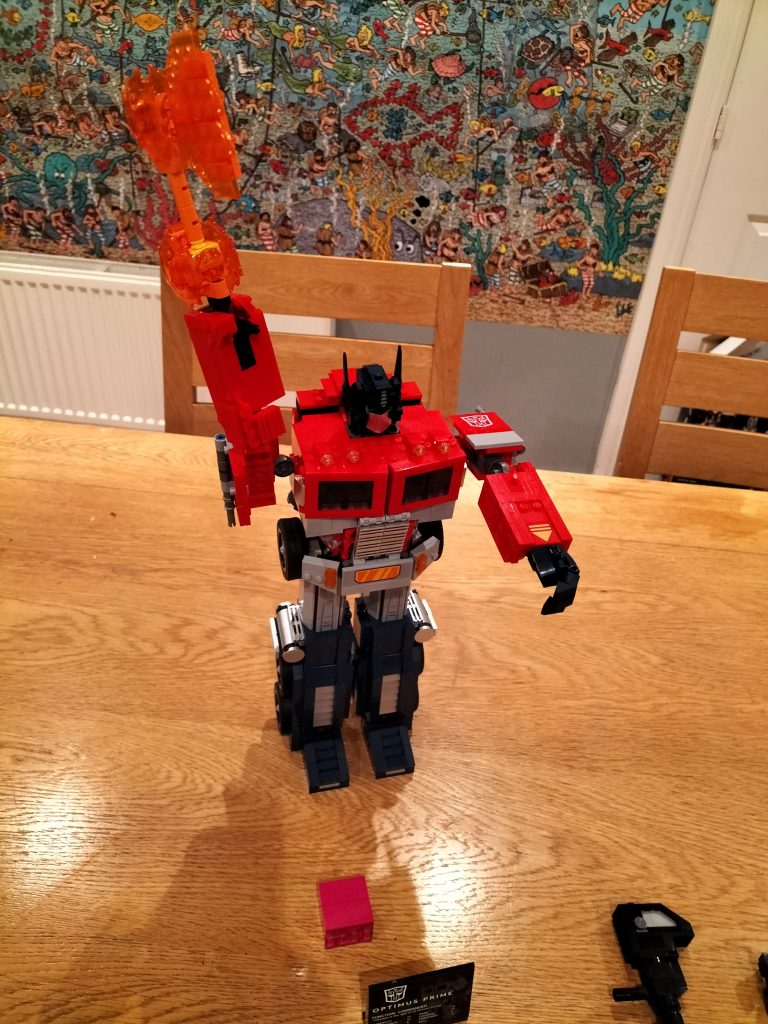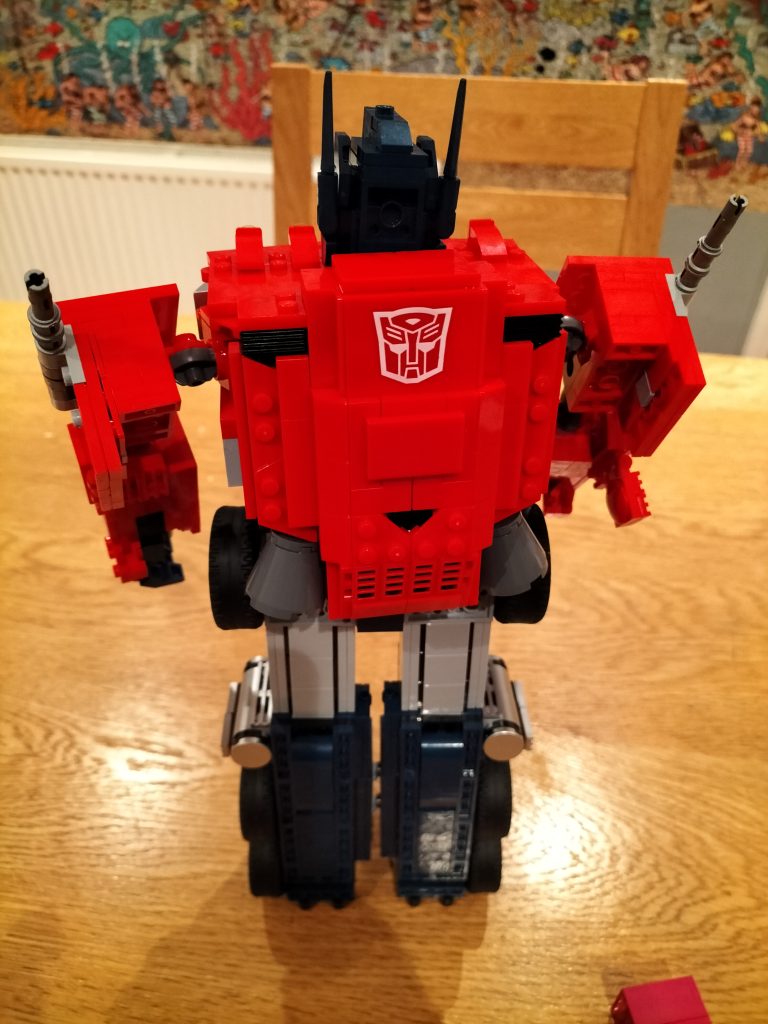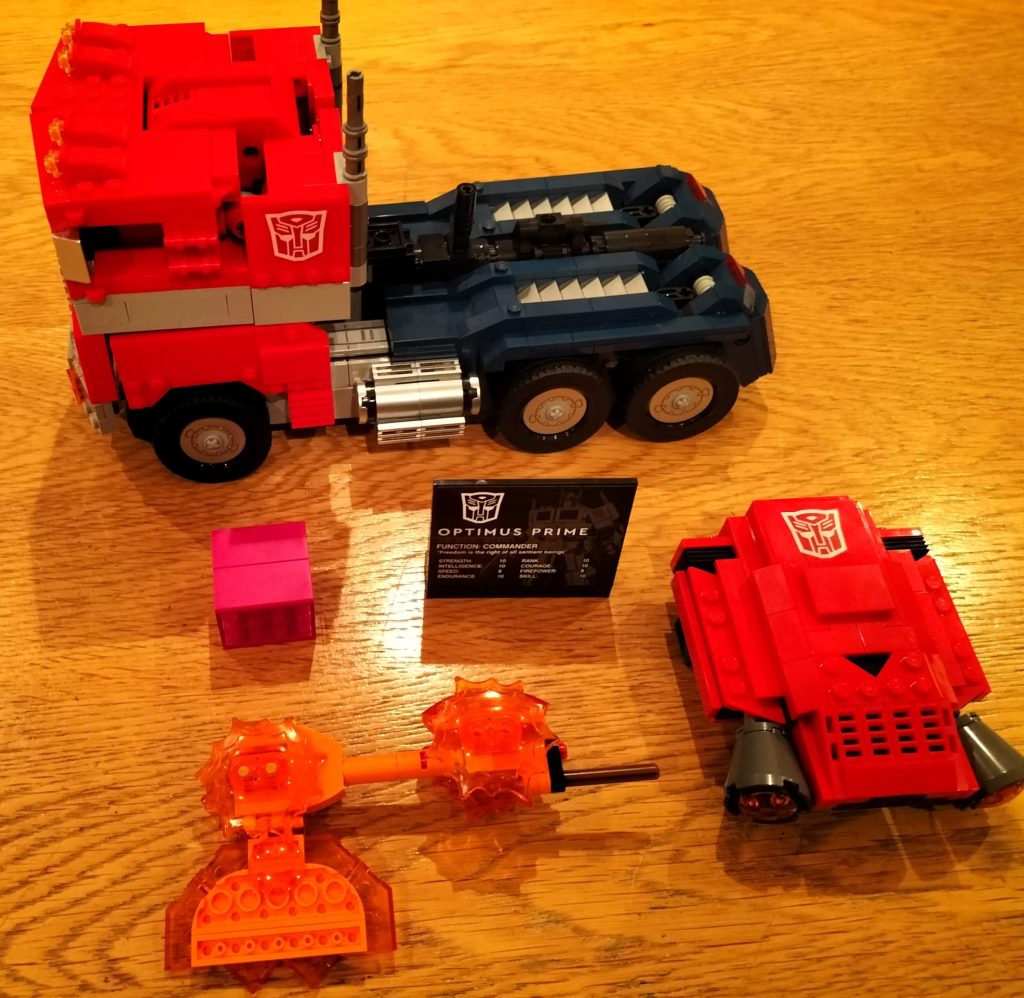 Conclusion
This was a great build, and I'm glad I got the set – I'll have plenty of enjoyment from showing it off and transforming it. I'm also really impressed at the level of detail they've gone into (although, to be fair, the grand piano which I got for Jules last year also set this bar pretty high).
Total build time was probably about 6 hours all-in, mostly building by myself, although Emily weighed in and helped for a bit. There were just enough pieces in each bag to justify having a new bag, but probably could have reduced things down to about 6 bags without too many worries.
It's mildly frustrating that the jetpack and axe aren't somehow incorporated into the vehicle-form, and the axe does occasionally fall off or pull the arm off, but, eh… it's just there for the battles, and he'd be more likely to just shoot the gun. These are definitely things I can live with, I just need to be sure I don't lose them!
So, final review – glad I got it, and the build revealed a few Easter eggs about the build that I really appreciated. 9/10
Thinking of getting the set? Consider buying it through my referral link: Amazon UK